How Would You Like To Have a Highly-Optimized,
Pre-Configured, Ready-to-Launch Site...

In Minutes?
What if, in just a few clicks, you had a fully optimized site built from scratch with all the configurations, settings that Sean would use to dominate any market?
ProfitBuilder + Launchpad = The Ultimate 1-2 Power Punch Combination... The Easiest Site Builder Ever
Use our powerful custom site builder to create AMAZING sites that are multipurpose, FLEXIBLE and highly customizable. In other words the only thing stopping you from having the site of YOUR dreams is your own imagination!
Build a New High-Authority Site in Under 10 Minutes... Here's How

Pick a Targeted Domain

Enter Basic Site Info

Instantly Build Your Optimized Site
Use our Domain Sniper with Sean's proprietary rank analysis algorithm to find the best and most rankable domain for your niche.
Fill in a short form with your site's information and our LaunchPad system will pre-configure your site for deployment.
Just press a button and your site is built before your eyes! Ready for final customization and opening the doors to the public.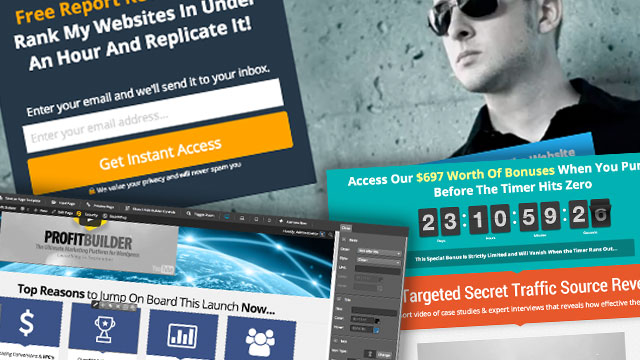 Your New Done-For-You Site Comes with Profit Builder Pre-Installed for MAXIMUM Power!

The great thing about LaunchPad is that you don't need a degree in design or coding. With ProfitBuilder's templates there are tons of pre-designed layouts ranging from High-Converting Sales Pages, Awesome Lead Generating Opt-In Pages, Member Portals, etc. In fact, any type of marketing page you can dream up, chances are we already have that layout for you.
We keep it as simple as possible! Create a site, plug the information in and GO!
You can have a fully-functional site in less than 10 MINUTES.

Create UNLIMITED SEO-Optimized, High-Ranking Sites Like This…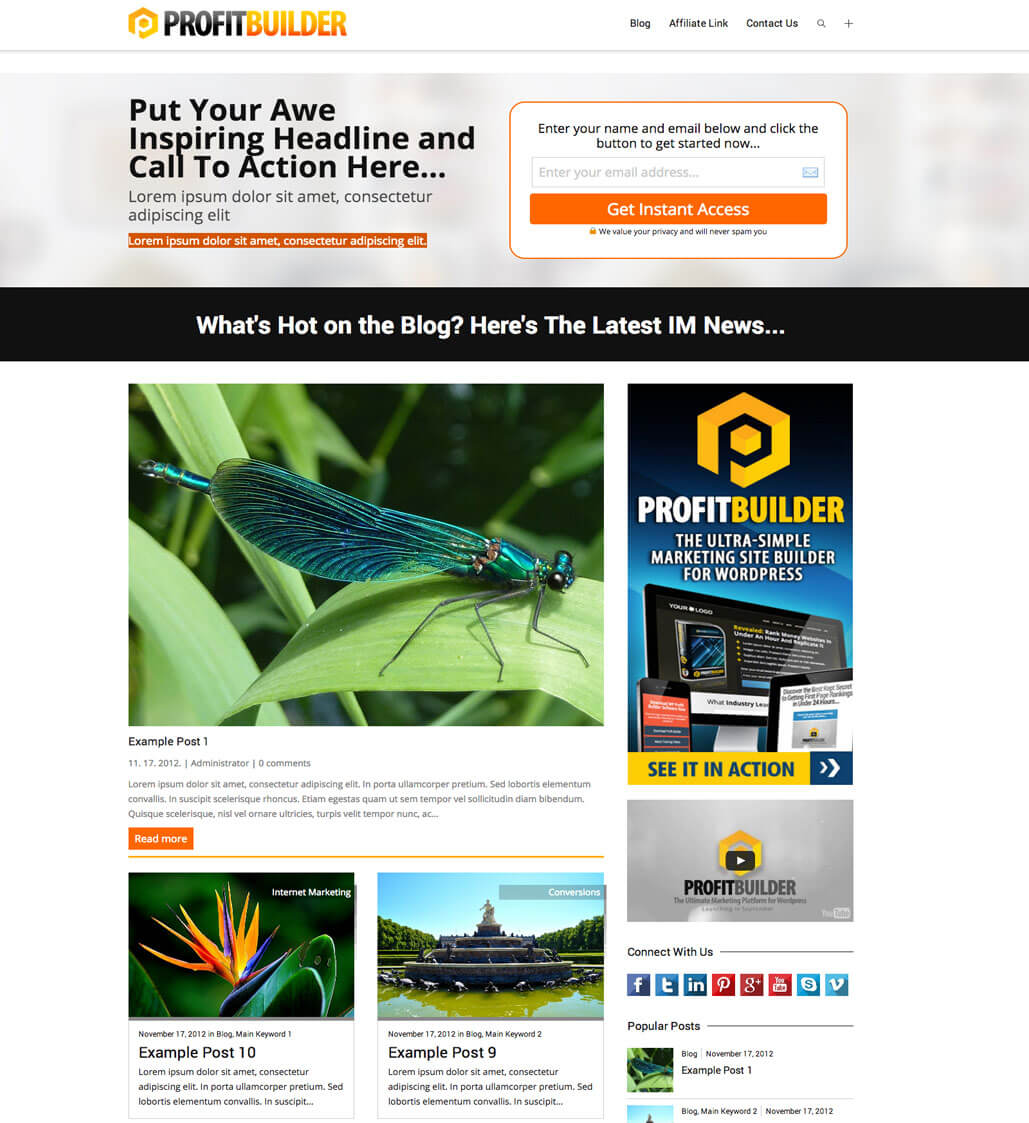 One More Thing...

NO MONTHLY FEES & UNLIMITED SITES...
Now, I know what your thinking... but, it's TRUE!  There is NO monthly fee to have the ability to build and customize ANY site, ANY way, as many times as YOU want. After all... We aren't the "Other Guys!"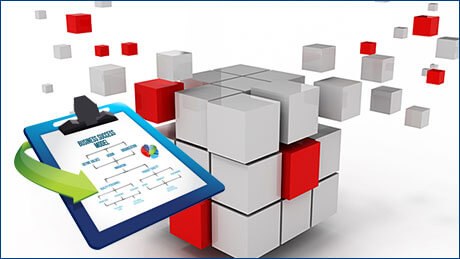 Designed for MAXIMUM Performance!

We have spent years mastering what works and what doesn't for you. After all, it's YOUR rankings, YOUR site performance. In other words... we built this with YOU in mind. So, we packed all that knowledge into every site you build…
All you have to do is run the LaunchPad, make a few tweaks and changes for your niche and you are good to GO…
Fully Mobile-Ready and Optimized…
If you don't support mobile phones and smart tablets you are losing traffic. Well, we have you covered!

The sites built with this system are all RESPONSIVE and work on all mobile devices and also support full SWIPE functions for touch screens as well… Built on proven technologies used by Fortune 500 companies…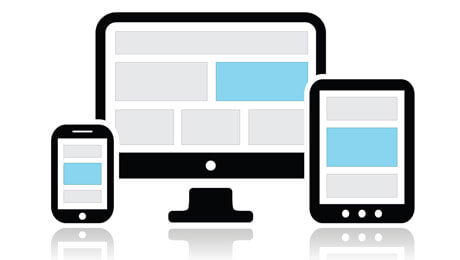 Imagine Creating ANY Site You Like in

JUST A FEW CLICKS!
With the AWESOME LaunchPad Software, Your Can Literally Build ANY Type of Site You Like.
No hidden catches, no monthly fees. You don't even need to know code! Just your own imagination!

Quickly build High Authority blogs that the search engines love and rank easily. Even for competitive keywords.

Create full-featured membership portals and training areas that keep members coming back for more!
Skyrocket your commissions by creating sites that convert hungry visitors into commission PROFITS.
With our direct integration with Woo Commerce you can easily create high- powered eCommerce sites in a snap.
Sites Just Like These - The Only Limit is Your Imagination...
We Even Let You Use This to Build
AS MANY PERSONAL Sites as You Want...
Imagine being able to build all your personal sites with ALL this power... without any additional cost! Yeah, you can do that with this AMAZING LaunchPad, too... Just another great example why you should add this to your package NOW!
No More Need For Developer Fees!
With this amazing LaunchPad and site builder you can create an incredible DIRECT stream of income by deploying your websites in minutes. Perfect for local marketers, local business owners and webmasters who want to create amazing sites FAST.

We give you everything you need to hit the ground like a ton of lead and turn it into GOLD...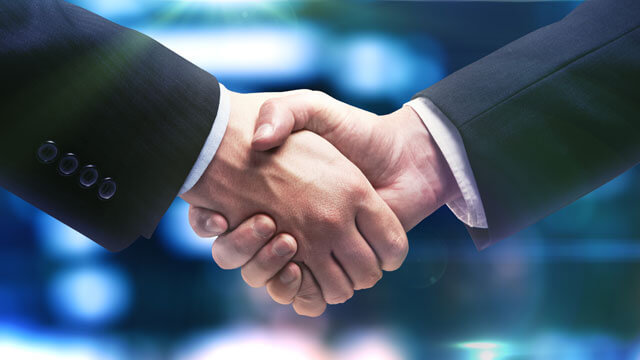 The Best Part?
- You Can Get This for
Just $67 Now 
This is the ONLY time you will have a chance to get your hands on this. So, this is a NO-BRAINER
add-on to your order that will take your site building KUNG-FU to the NEXT level...
Take-Off with LaunchPad Now for $297 Just $67
Build Unlimited, High-Converting Sites with Ease for Yourself, Starting Now...
One-Time Only Payment – For Your Personal Sites...

ALL TRADEMARKS AND LOGOS ARE THE PROPERTY OF THEIR RESPECTIVE OWNERS.

THIS SITE AND THE PRODUCTS AND SERVICES OFFERED ON THIS SITE ARE NOT ASSOCIATED, AFFILIATED, ENDORSED, OR SPONSORED BY ANY BUSINESS LISTED ON THIS PAGE NOR HAVE THEY BEEN REVIEWED TESTED OR CERTIFIED BY ANY OTHER COMPANY LISTED ON THIS PAGE.

THE RESULTS SHOWN ARE NOT TYPICAL AND RESULTS WILL VARY BASED ON YOUR MARKET, YOUR EFFORTS, COMPETITION AND MANY OTHER FACTORS OUTSIDE OF OUR CONTROL.
Copyright 2014 - WP Profit Builder - All Rights Reserved